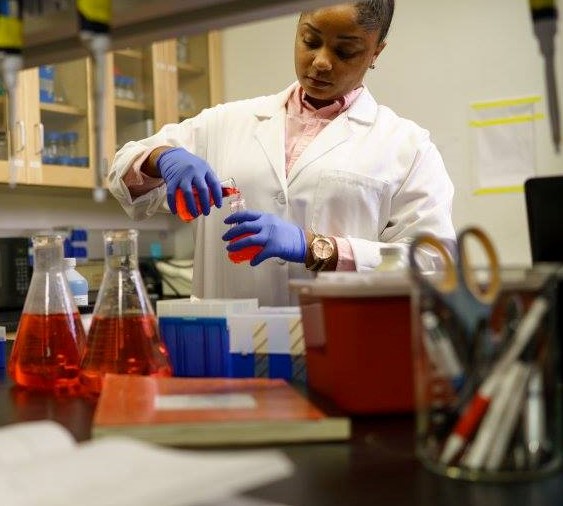 It seems like only a few years ago that Malachia was deciding to switch her major from chemistry to biology. Six years later, Malachia Hoover, who grew up in Marin City, is recognized as a promising cancer researcher, recently earned her Master's degree in Biology as part of California State University Northridge's (CSUN) Research Initiative for Scientific Enhancement (RISE) program. She is currently a second-year graduate student and research assistant studying at Stanford University's Institute for Stem Cell Biology and Regenerative Medicine, and is recognized as a promising cancer researcher..
And top all of that, Melli as she is affectionately known, has also been named a recipient of the prestigious fellowship from the Ford Foundation, whose mission is to "increase the diversity of the nation's college and university faculties by increasing their ethnic and racial diversity, (and) to maximize the educational benefits of diversity…"
Receiving offers from the University of Southern California and Yale before deciding to enroll at Stanford, "I feel like the offers were simply confirmation that all of my hard work was finally being recognized by major faculty and top-tier universities," Hoover said.
While studying at CSUN's Developmental Oncogene Laboratory, which studies how a normal cell changes into a cancer cell, Hoover worked under Dr. Jonathan Kelber and addressed important questions in cancer and tissue regeneration. Kelber mentored Hoover for more than four years and said that she stood out as a student because of her numerous publications.
"Malachia has already had co-authorship on one paper, she's had first authorship on another paper, she's got a second first-author paper that we're working [on], and she's going to be on at least two [more]," Kelber said. "She's been very prolific in terms of research productivity, which made her an outstanding applicant."
Hoover credited CSUN's RISE programs for providing opportunities to help her achieve her goals. Hoover said that RISE helped her financially during her work as a graduate student, and her community in Marin City played an integral role in supporting her dreams.
"My community (including family, friends, and community members) played a big role in my Ph.D. application process," she added. "They helped me $1,500 through GoFundMe. That helped me pay for all the application costs."
The Sausalito Women's Club and Performing Stars of Marin have been amongst her staunchest supporters.
"It really did take a village," Bettie Hodges, Director of the Hannah Project, said in reflecting on Malachia's success.
" Melli was a part of the Hannah Project as a high school student, and was actually introduced to CSUN on a college tour that the Hannah Project' conducted when she was a senior."
"Hannah Project was fortunate to have funding for scholarships during that time," Hodges continues, "and Hannah's Dreamkeeper Scholarship program subsidized portion of Malachia's undergraduate studies and as well as providing employment as a Servant Leader Intern and Site Coordinator in our summer Freedom School."
"What I love most about Melli," Ms. Hodges says," is her beautiful and kind spirit."
" She is not only brilliant, but she possesses a strong sense of self, her culture, and her history. Malachia truly loves the community and is always so willing to give of herself and her talents. She is always anxious to give back ]in any way she can."
The Hannah Project could not be more proud. We can only imagine the contributions you will make.
"We need more scientists that come from minority backgrounds," Hoover concludes." [Anyone] can be a scientist through hard work and mentorship."
We agree. Ashay.